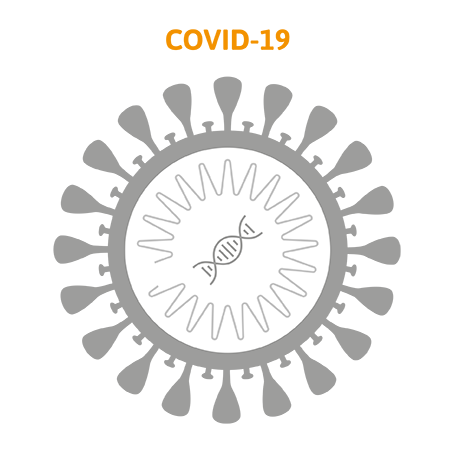 SARS-CoV-2 Virus PCR test service
TAmiRNA is offering PCR test services for direct detection of SARS-CoV-2 virus ("coronavirus") in biological samples. The test follows the WHO guidelines for direct detection of a viral infection with SARS-CoV-2. In the first step, the viral N-Gene is tested. It serves as a quick test to rule out infections. Samples that have been tested positive will undergo a second evaluation using the SARS-CoV-2 E-Gene. Human RNaseP can be optionally selected as a positive control for correct sample collection.
TAmiRNA bietet PCR-Testdienste zum direkten Nachweis des SARS-CoV-2-Virus ("Coronavirus") in biologischen Proben an. Der Test folgt den WHO-Richtlinien zum direkten Nachweis einer Virusinfektion mit SARS-CoV-2. Im ersten Schritt wird das virale N-Gen getestet. Es dient als schneller Test, um Infektionen auszuschließen. Positiv getestete Proben werden einer zweiten Bewertung unter Verwendung des SARS-CoV-2 E-Gens unterzogen. Das humane RNaseP Gen kann optional als positive Kontrolle für die korrekte Probenentnahme ausgewählt werden.
benefits
Rapid screening for positive and negative cases using a CE-IVD multiplex assay for SARS-CoV-2 N-gene and an internal positive control. Our testing service has passed the evaluation ("Ringversuch") of the Austrian Health Ministry.
Positive results will be confirmed based on a second PCR test for SARS-CoV-2 E-Gene according to WHO recommendations.
Tests can be ordered for research-use purposes as well as medical diagnostic together with medical diagnosis report. Test results are usually available within 24 hours.
A mobile medical team can come collect swabs on site. Please schedule appointments via phone +43 1 391 33 22 90 (Mo-Fr between 8.00 and 15.30) or online.
service requirements
Nose and throat swab samples of 0.1 mL liquid volume
Blood, serum, plasma, urine, or stool samples can be analyzed for research-use applications only.
intended use
The SARS-CoV-2 PCR testing is intended to provide direct detection of coronavirus RNA in biological samples, and thus, provides proof for infection with SARS-CoV-2. Importantly, only nose and throat swab samples can be used for medical diagnosis. Other human biological samples can be processed but only for research-use.
service description
SARS-CoV-2 PCR tests are an in-house laboratory service provided by TAmiRNA.
The testing can be done for research or diagnostic use.
100 µl of liquid nose and throat swab samples are required.
SARS-CoV-2 N-Gene is analyzed in the first step, together with an internal control and human RNaseP (optional).
Positively tested samples undergo a second analysis for SARS-CoV-2 E- and RdRp genes.
dataset
We provide an interactive electronic report, which highlights
whether a sample was tested positively or negatively for SARS-CoV-2
that all assay controls were OK
enables quantitative insights into viral RNA load
For diagnostic-use, a medical diagnosis report will be provided in addition.