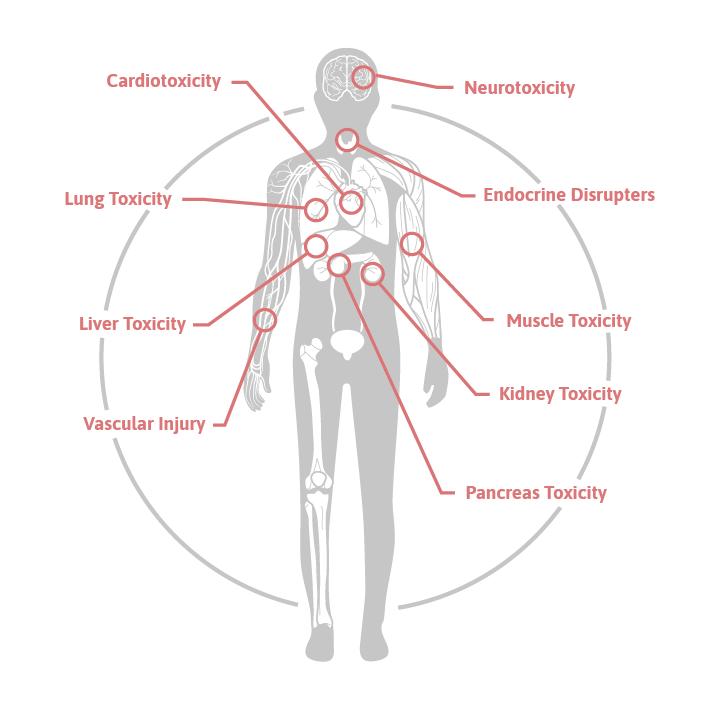 toxomiR®
microRNA biomarkers of toxicity
The term toxomiR® refers to a selection of 19 microRNAs that are enriched in various tissues. Toxicant-induced changes in the transcription and secretion of toxomiRs® are highly sensitive to toxic effects occuring in the liver, kidney, central nervous system, heart, muscle, lung, pancreas, vascular injury, and due to endocrine disruption. ToxomiRs® can be analyzed in serum or plasma.
This recently published review, gives detailed insight into the clinical utility of circulating microRNAs as biomarkers of toxicity.
benefits
Non-invasive screening of toxic effects using serum or plasma
MicroRNAs in human biofluids for early detection of tissue injury after exposure to toxic substances
High sequence conservation makes cross-species application possible
Rapid and robust solution for quantifying toxic effects in human plasma samples
Customized service available with analysis targeted on specific set of microRNAs or tissue types
service requirements
Frozen serum or plasma sample aliquots of at least 200 μl
intended use
toxomiRs® can be used in pre-clinical and clinical phases of drug safety assessment. The microRNAs panel enable early and reliable detection as well as monitoring of adverse events.
The toxomiR® panel can be used:
To understand toxic mechanisms in liver, kidney, central nervous system, heart, muscle, lung, pancreas, vascular injury, and due to endocrine disruption
For identifying and monitoring safety risks in drug development
For early detection of tissue injury
service description
The toxomiR® panel is only available as in-house service
200 µL serum and plasma are recommended (lower volumes can be used but require pre-testing)
Deep-frozen (-70°C or lower) serum and plasma samples can be used
19 toxomiRs® and 5 quality controls are measured per sample
Ready-to-use data for presentation and publication will be provided
dataset
the toxomiR® service include:
Standardized analysis of qPCR data
Quality control: inspect amplification curves, melting temperature, spike-in and hemolysis controls
Ready-to-use data for presentation and publication will be provided
Post project consultations to discuss next steps are included
Customization is possible: upon request the analysis can be targeted to a specific set of microRNAs/tissue
price list
| sample number | price/sample |
| --- | --- |
| n<=48 | € 275.– |
| n<=96 | € 194.– |
| n<=154 | € 175.– |
| n<=192 | € 156.– |
| n>192 | € 147.– |
frequently asked questions (FAQ)